Japan Rail Pass Information

Japan Rail Pass Overview
The Japan Rail Pass is a discounted travel pass offered by Japan Railways (JR). It is exclusive for foreign tourists and offers unlimited travel on the extensive JR train network (including the famous bullet trains), selected JR buses and selected JR ferries. Just one pass covers travel in every corner of the four major islands in Japan. If you are planning on making long distance trips within Japan, the Japan Rail Pass offers a fast and affordable travel alternative. Put it this way, a return trip from Tokyo to Kyoto will cost you around the same price as a 7 day Japan Rail Pass. The Japan Rail Pass is also referred to as a JR Rail Pass or JR Pass.

When you purchase your Japan Rail Pass you will receive an Exchange Order voucher. You will then take this with you to Japan where you will transform it into your actual Japan Rail Pass. Make sure you keep this safe since this is required to get your JR Pass.
Please be aware that your Japan Rail Pass MUST be purchased BEFORE you arrive in Japan. The Exchange Order voucher will be valid for 3 months from the date of issue.

Japan Rail Pass Benefits
Unlimited travel on the JR Network

It's great value for money

Select between 7, 14 & 21 day passes

Easy to use and gives you complete flexibility
Economy and Green (executive) class options

Access to JR Hotel Group Discounts

Free seat reservations

You can go almost anywhere in Japan
Planning your trip & Online Timetable
If you are looking to plan your trip around Japan then check out our planning your trip page. It gives you step by step instructions on using the Hyperdia website and covers timetables and routes for all Japan railway lines, bus lines and domestic flights. You can use this tool to see if the Japan Rail Pass is right for you
Exchange Order voucher we send you!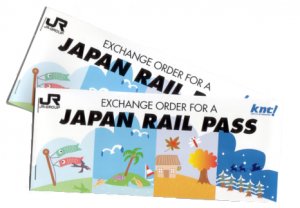 EXTENDED INFORMATION
The Japan Rail Pass, also referred to as a JR Pass/JR Rail Pass, is a cost effective travel pass offered by Japan Railways (JR). It is exclusive for foreign tourists  and offers unlimited travel on the the JR Group famous Shinkansen "bullet trains" *, limited express trains, express trains, rapid/local trains, JR bus company lines and JR Miyajima ferry. Just one pass covers travel in every corner of the four major islands in Japan. If you are looking for a fast and affordable travel alternative, then this is for you.
There are various types of Japan Rail (JR) Pass options which include 7, 14 and 21 days of travel. You can choose between Economy and Green (premium) class. Both adult and child prices are available for each JR Pass option, with children aged 6-11 receiving a 50% discount. Children under 5 years of age can travel for free, but they aren't entitled to a seat (i.e. they will need to sit on your lap). A child's age is based on the date of issue on their exchange order voucher.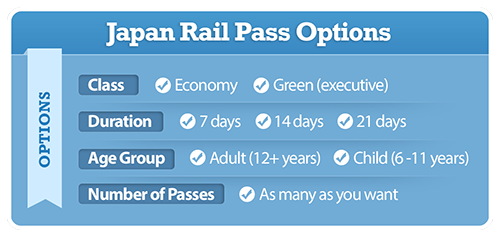 Shinkansen trains can travel at speeds up to 320 kilometres an hour! To put that into perspective, that's nearly four times faster than typical Australian passenger trains. Taking the Shinkansen will get you to your Japanese destinations much faster, as well as providing you with a unique travelling experience.
You can also use your JR Pass for discounted accommodation at JR-affiliated hotels! These hotels are all conveniently located near key train stations. Most are also near popular restaurants, shopping areas and attractions. There are a variety of hotels available to suit all budgets, from discount through to luxury. Hotel rates will vary depending on the season and exchange rates at the time.
*The Nozomi and Mizuho Shinkansen services are excluded.
Eligibility
The JR Pass is currently only available to overseas travellers entering Japan as temporary visitors. Visitors who enter Japan under other statuses are not eligible.
The pass can only be used by the person whose name is on it, it cannot be transferred.
How to Purchase
You can purchase your pass through us here at Japan Rail Pass Now before you leave Australia.  We service all Australian States and Territories.  You can purchase the JR Pass in Japan on trial from March 8, 2017 to March 31, 2018 however the prices will be 10-13% more expensive.
After your purchase your JR Pass, you'll receive an exchange order voucher which we ship using Australia Post. Allow at least 10 business days to receive this voucher if you live in a remote part of Australia. The exchange order voucher is valid for up to three months from its date of issue.
When you arrive in Japan, your passport will be stamped identifying you as a temporary visitor. You simply take your voucher and your stamped passport to a JR exchange office. There you'll need to fill in a short form and select your travel start date to redeem your JR Pass. The travel start date doesn't need to be the same day you redeem your pass, it can be any date within a month of that date. However, once a pass is issued, its starting date cannot be changed.
Current Prices
Type
Ordinary
Green Car
7 Day Adult Pass

$

339.00

$

454.00
14 Day Adult Pass

$

542.00

$

735.00
21 Day Adult Pass

$

693.00

$

956.00
Reduced Rates (50% off) apply to children aged 6-11
Issue, exchange and activation date information
There are three main dates which relate to different parts of the Japan Rail Pass process, they are as follows:
Date of Issue: After you purchase your Japan Rail Pass online then you will be issued with your Exchange Order voucher. This generally happens within 24 hours. You will then have 90 days to swap over your Exchange Order voucher for your JR Pass in Japan. That means you can only purchase your JR Pass within 3 months of your planned travel.
Exchange Date: This is essentially the day you exchange/swap over your Exchange Order voucher for your JR Pass in Japan. This has to be within 90 days from the date of issue, as discussed above.
Starting Date: You will select a starting date when your are swapping/exchanging over your Exchange Order voucher to your Japan Rail Pass. Once this has been selected it cannot be changed. The period of use is based on calendar days and it will start at midnight on the starting date and expire at 11.59pm on the 7th/14th/21st day.

Example of trip to Japan using the 7 day Japan Rail Pass:

In the example you can see the most economical way to use the JR Pass is to start it on the 04/04 which will cover the expensive part of the trip. For the the first 3 days in Tokyo people may choose to use IC Prepaid Cards which cover the metro, however, you can still use your JR Pass on the JR Lines if you have it started already.
Planning Your Trip and Travel Timetable Online
If you're looking for inspiration to get the most out of your trip, then be sure to check out some of our sample itineraries.
And if you need help trying to plan your travel journey, use HyperDia. You can read our detailed planning your trip and online timetable page to help you get the most out of your trip to the land of the rising sun.
Reserving Your Seats
The JR Pass provides you with the option of reserving your seats for free.  All you need to do is present your JR Pass to any JR ticket office at stations throughout Japan. Many customers choose to do this at the same time as they swap over their Exchange Order voucher.
Be aware that you cannot make reservations on board a train or at ticket machines.
Although seat reservation is optional on most services, for a small number of popular services it is mandatory. These services include:
– The Narita Express (Tokyo – Narita Airport)
– The Hayabusa and Hayate services along the Tohoku/Hokkaido Shinkansen lines
– The Komachi services along the Akita Shinkansen line
– The Kagayaki services along the Hokuriku Shinkansen line
– The Sunrise Seto/Izumo night trains
For most other services, making reservations several days in advance may be necessary during busy travel periods (e.g. holidays such as Golden Week between late April and early May, Obon in mid-August and New Year from 29 December to 3 January).
If you're travelling in a group and want to ensure you can all sit together, reservations provide you with the peace of mind that you can travel when and how you want to.
How to Use Your Pass for Boarding
The JR Pass is your ticket and you need to present it at the manned gates (you cannot use your JR Pass at the automatic gates). The only other ticket you'll need is a reservation ticket if you have reserved a seat in advance. Remember, it doesn't cost you anything to reserve a seat if you're a JR Pass holder.
Occasionally, you might be asked for your passport at the manned gate as well, so it's recommended to always have it with you.
Riding on the Shinkansen
Just like on public transport in Australia, there are manners you should observe when riding Shinkansen trains in Japan:
– keep your voice down when you're having a conversation;
– keep your children as quiet as possible;
– turn your phone to silent mode;
– have consideration for the person behind you when reclining your seat;
– don't block aisles with your luggage. Place small to medium-sized bags in the racks above the seats, and large luggage at the back of the carriage where there is dedicated space.
There is also some Japanese etiquette to be aware of:
– If you have a reserved seat, sit in that seat. Don't move to spare seats which may be taken by people boarding at different stops on the route. It would be uncomfortable for most Japanese people (even conductors) to have to ask you to move.
– Orderly queues are formed when boarding trains, with painted signs on the platforms providing a guide.
Tips & Advice
– All Japanese stations display station names in both Japanese and English on their platforms.
– Avoid travel during early morning (7.30-9.30am) and late afternoon/early evening (5-8pm) peak hours if possible.
– Mobile vendors on some long distance Shinkansen and limited express trains boxed lunches (ekiben), snacks and drinks. You're allowed to eat and drink on long distance trains and you can take your own food on.
– Wheelchair-accessible seats are available on most Shinkansen and limited express trains.
About the Japan Railways Group
The Japan Railways Group is one of the world leading rail networks with over 20,000 daily departures. The network has six service regions: JR Hokkaido, JR East, JR West, JR Central, JR Kyushu and JR Shikoku. Their bullet trains (Shinkansen) are famous for their fast speed, safety record and reliability.